If you were to enter a room at a party chances are, you'd gravitate to the chaise sectional rather than have a whole chaise lounge to yourself. Unless you're in the mood to be the center of attention. With these types of furniture, you may simply just seek to lounge, and see no difference in how you go about doing that. Both the chaise lounge and the chaise sectional have their benefits for your home, so which one is right for you?
What is a chaise lounge?
The chaise lounge is an elegant piece of furniture that looks like an ancient Greek god could sprawl out on it and be fed grapes. It often has an attached back and armrests on one or both ends. Chaise lounges are typically upholstered in fabric, but can also be made from wood or leather. They usually come with a pillow or two for added comfort. Chaise lounges are sometimes used as an accent piece to a room. They can easily seat one person, but two people could fit (very snugly) on the chaise lounge. These chairs were inspired by ancient Egyptian, Greek, and Roman furniture designs.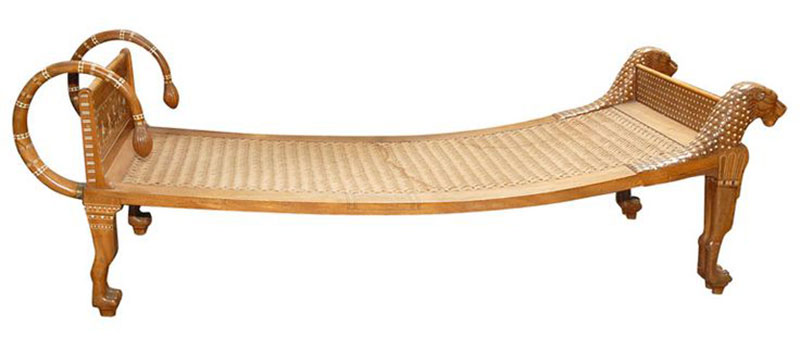 An ancient Egyptian chaise lounge [source: Trex Furniture].
The Ladybird Chaise Lounge, made locally in Austin by Couch Potatoes.
This is a modern-day chaise lounge. Much more comfortable, and the mid-century modern appeal will fit snugly and simply into your home regardless of the layout. The benefits of chaise lounges are that they are not limited to the living room or family room. They can look just as nice at the foot of your bed, or near the window of your home office.
What is a reversible chaise sectional?
A reversible chaise sectional is a couch that has an attached chaise on one end. This piece of furniture typically seats more than two people but can be used as a single-seater. The reversible part comes in handy because you can switch which side the chaise faces when it's time to rearrange your room.
These sectionals are perfect for small spaces because you can use the chaise as a wall to section off part of the room. The versatility of the reversible chaise sectional is popular because it allows you the freedom to rearrange your space to your liking for easier interior decorating. Reversible chaise sectionals are typically upholstered in fabric, but can also be made from leather.
This is the Wallace Untufted Reversible Chaise Sofa in Bennett Ink.
This is the Mas Mesa Reversible Chaise Sofa in Peyton Chocolate.
There is a lot of variation for reversible chaise sectionals, and you can lounge both ways. With armrests on both sides as well, compared to a chaise lounge with only one side of the support, the chaise sectionals look like they were built to encourage comfort.
An Outdoor Alternative
Now, imagine a chaise lounge or chaise sectional...but outdoors. Many people have been jumping at the chance for a patio chaise lounge so they can look pretty poolside. 
Outdoor chaise lounges and chaise sectionals work well outside because they're made of all-weather materials. They're easy to move around and can fit in tight spaces. Plus, who doesn't love a good sun tan? chaise sectionals and chaise lounges encourage just that. Lounging. With their length, it's the perfect type of furniture to rest after a fun-filled pool day. 
People have even taken to building their outdoor chaise lounges themselves, to cut some corners. Take a look if you're preparing for the warmer weather.
So, which one is the best for you? If you're looking for something that is comfortable and stylish, a chaise lounge would be a great choice. Chaise lounges are typically smaller in size so they don't take up too much space. They are perfect for a nook or small room because they're easy to move and don't draw attention away from the rest of your décor. If you like to rearrange your furniture often, reversible chaise sectionals would be a good choice. The reversible chaise gives you the option to change which side the chaise faces when you need to rearrange your furniture. This is great for people who like to experiment with their interior design and play around with different layouts.
Couch Potatoes has stand-alone chaises, as well as reversible chaise sectionals. They're customizable and made with comfort in mind. Nobody wants to lounge on a lounge that feels like a slab of rock. We want you to be comfy and stylish, encouraging you to take a load off after a long day. 
So, check out our furniture stores' chaise collection, and visit us in Central and South Austin. 
Written by Emily Holleran
email: eholleran@thefurnituremall.com