What comes to mind when you think of industrial furniture? Perhaps you imagine a dark, gritty space with exposed metal beams and pipes. Maybe you think of heavy, solid wood pieces that are perfect for a workshop or garage. Whatever your impression may be, there's no doubt that industrial-style furniture is unique and eye-catching. In this blog post, we'll take a look at the characteristics of industrial furniture and discuss why it's so popular.
What Are Some Characteristics of Industrial Furniture?
When you walk into a furniture store, you'll likely see a variety of different styles on display. From traditional to contemporary, there's something for everyone. But what sets industrial furniture apart from the rest? Let's take a closer look at some of the key characteristics:
Exposed Materials
One of the defining features of industrial furniture is the use of exposed materials. This could include metal, wood, or even concrete. The idea is to show off the materials used in construction, rather than hiding them away.
Image source: aetb
In industrial homes you can work with such things as exposed brick walls, or low-hanging wooden beams. They add to the charm and coziness of the home, while also giving it an industrial feel.
Color Palette
Here is some industrial-style furniture from Couch Potatoes to show how you can decorate your home. The Mesa sofa serves as the focal point, and while not expressly showing exposed materials its neutral-colored upholstery is essential to the industrial look. The industrial color palette includes white, grays, blacks and browns.
Raw or Unfinished Look
Industrial furniture often has a rough and unfinished look. This can be achieved through the use of distressed wood or metals that have been left in their natural state.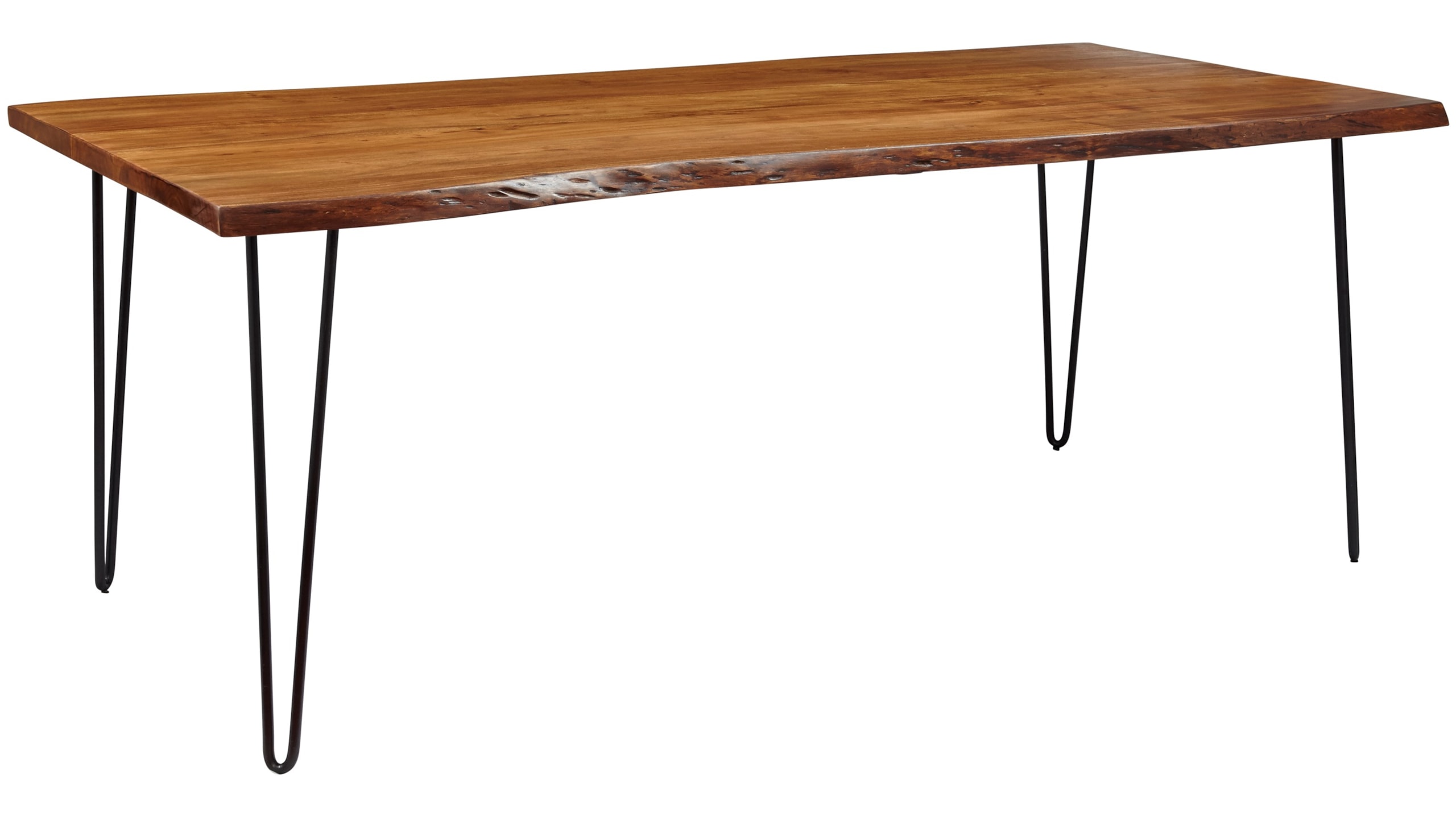 Our Live Edge 79" Natural Dining Table has that exposed acacia wood look that is perfect for an industrial home. It's quite literally, "rough around the edges" and the metal hairpin legs only add to the overall raw material feel.
It's Sturdy and Dependable
Industrial furniture is usually quite heavy and sturdy. This is due to the use of materials like solid wood or metal. The pieces are built to last, which is ideal for those who need furniture that can withstand a lot of wear and tear.
The Yarrow round coffee table and Yarrow round end table has a bourbon finish on the wood and aged iron legs, which add to the sturdiness of these tables. The Ladybird leather right chaise sectional is also known to be durable, tear-resistant and stain-resistant.
Industrial Style Interior Design
If you're looking for something different than the traditional furniture styles, industrial furniture is definitely worth considering. With its unique look and durable construction, it's perfect for those who want to make a statement in their home.
Couch Potatoes has several pieces of furniture you can choose from to achieve the industrial look in your home. We also have other styles, if industrial is to raw and unfinished for your taste. Come into our store today and speak with one of our sales specialists to find the perfect furniture for your home.