The SoCo furniture collection at Couch Potatoes is inspired by Austin's hippest neighborhood. SoCo, which stands for South Congress Avenue, is known for its lively atmosphere and eclectic mix of businesses. The furniture in this collection reflects that spirit, with pieces that are both stylish and functional. If you're looking for a sofa that you can sink right into, the SoCo collection may be just for you!
What's So Great About South Congress Avenue?
A shot of the vibrant neighborhood of South Congress Avenue. Image source Tribeza. Photograph courtesy of Red Riding Hood Productions
If you're not familiar with South Congress, or SoCo as it's commonly called, it's a stretch of businesses and restaurants on, you guessed it, South Congress Avenue in Austin, Texas. This area is known for its eclectic mix of shops, from high-end boutiques to vintage stores, and is also a prime viewing spot of the Texas Capitol building. It's also home to some of the best food in the city, with everything from BBQ to gourmet ice cream. And of course, there's live music! You can find a band playing almost any night of the week on SoCo.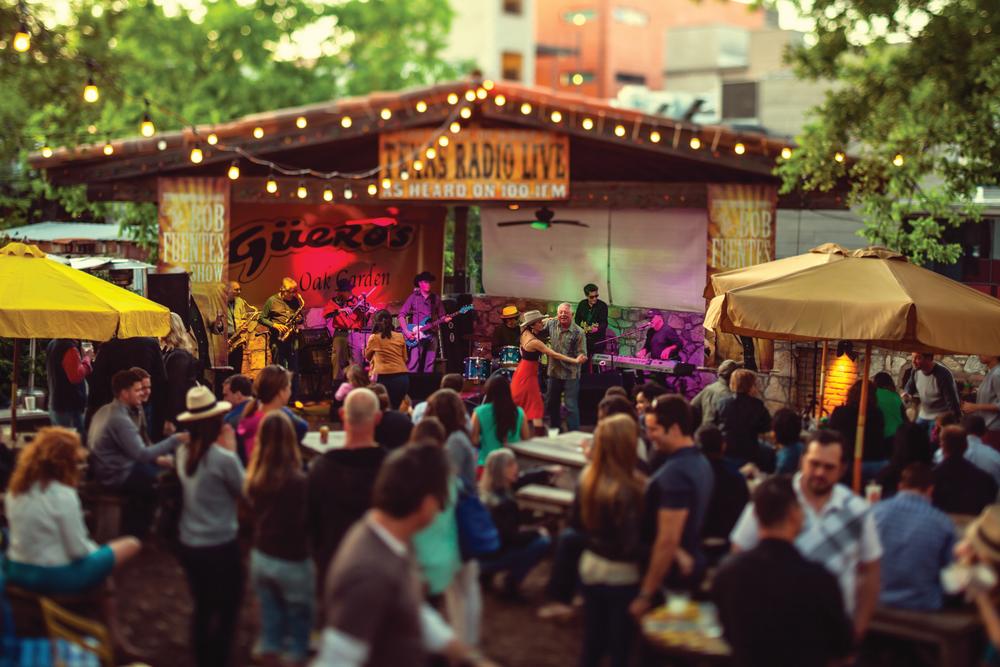 People enjoying a live music performance at Guero's Taco Bar on South Congress. Image source Visit Austin. Image Courtesy of Guero's Taco Bar.
As a furniture store, we love the SoCo collection because it captures the spirit of this neighborhood, and the city of Austin, perfectly. The pieces in this collection are stylish and functional, just like the businesses on South Congress Avenue.
The SoCo Sofa
One of our favorite pieces in the collection is the SoCo sofa. This piece is comfortable and stylish, with a clean design that would look great in any home. The arms have a smaller profile, giving more space to stretch out and relax.
The pillowy cushions are very plush and enveloping. We rated it a 2 on our scale of seat comfort (5 being the firmest, 1 being the plushest). The SoCo sofa is one of our most popular sofas at the moment because it combines a clean, modern design without sacrificing comfort.
The SoCo Chair
If you're looking for a chair that's just as comfortable as the sofa, but smaller for your space, check out the SoCo chair. This piece looks as if you ripped a chunk off the SoCo sofa. A bite-sized SoCo. It still retains all the comfort of the SoCo's pillowy cushions, with a more compact form.
The SoCo Corner Sectional
If you like the SoCo sofa, but wish it were stretched out a bit for maximum comfort, then we also have the sectional for you. The SoCo corner sectional has plenty of room to sprawl out, and will still maintain that clean, modern look that everybody seems to be after these days.
We also have a SoCo ottoman. It's perfect for putting your feet up after a long day or using it as extra seating when you have guests over. Can't you just imagine your cat making itself at home, nestling right into its sumptuous depths? The best part of the ottoman is that it matches the simple lines of any SoCo sofa, sectional, or loveseat.
Speaking of loveseats, we also have a SoCo loveseat. It's smaller than the SoCo sofa, and larger than the SoCo chair, making it that perfect middle-man furniture piece. There is also something so snug and appealing about seeing the puffy cushions of the SoCo in a loveseat frame. We think it looks like a big, comfortable cloud.
Ready to Sink Into the SoCo?
The SoCo furniture collection has everything you need to create a stylish and cozy living space in your home. Whether you're looking for a sofa, chair, loveseat, or ottoman, we've got you covered.
Couch Potatoes also offers customization options for most of our furniture, especially our sofas. So, if you were put off by the neutral tone of Elliot Dove, featured on the SoCo Collection above, check out our other colors of fabric.
After a fulfilling day of shopping the boutiques, or grabbing a bite to eat from one of the restaurants (seemingly around every corner on South Congress Avenue), stop by Couch Potatoes to look for a sofa you can sink into after a long day.
We have locations in South and Central Austin, Texas.