The Ladybird Collection is one of the most popular collections at Couch Potatoes. These pieces of furniture are mid-century marvels full of character and charm. Whether you're looking for a sofa, loveseat, chair, or leather options, the Ladybird Collection has something to fit your needs. So come on in and take a look at this beautiful collection today!
The Lady Behind Ladybird
Like most of our collections, the Ladybird Collection was inspired by an Austin landmark, Lady Bird Lake. The lake was named after former first lady, Lady Bird Johnson. She was known for her work in making Austin more beautiful and promoting conservation efforts. We wanted to create a furniture collection that embodied the same ladylike charm and grace as Lady Bird Johnson and the beauty of Lady Bird Lake.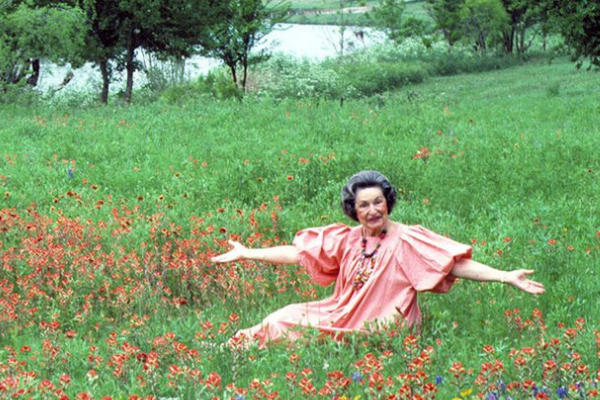 Lady Bird sitting in a field of wildflowers. Source scenic.org.
The Ladybird Sofa
This is the classic Ladybird Sofa. Perfect for any mid-century modern home, this piece will become your new favorite with its clean lines, and simple shapes. The sofa comes in a variety of fabrics, so you can choose the perfect one for your space.
The Ladybird Leather Sofa
Rachel Holtin, on her Ladybird leather sofa in Hudson Lager leather.
This is the leather version of the classic Ladybird Sofa. The Ladybird leather sofa is a popular choice because of how its gorgeous leather options look on the Ladybird's mid-century modern frame. Local Austin influencer, Rachel Holtin, bought this sofa, and it fits perfectly with her personal interior design style.
The Ladybird Chaise Sectionals
What if you wanted a little more space on your Ladybird sofa, but don't want to pay for a huge sectional? The Ladybird Reversible Chaise Sofa is so easy to shift to either side, depending on the shape of the room you want your sofa in. This versatile piece is perfect for those who like to change things up often.
There are also the Ladybird Left Chaise Sectional, and Right Chaise Sectional if you have a good idea of where you'll put your couch and would prefer a simple sofa chaise.
The Ladybird Loveseat
This Ladybird loveseat is a smaller version of the classic Ladybird sofa, but it's just as comfortable and charming. The clean lines and simple shapes make it perfect for any mid-century modern home. It's a nice size for apartment living, or just some extra seating for when guests visit.
The Ladybird Chaise
The Ladybird Chaise can either be RAF (right arm facing) or LAF (left arm facing). These are standalone chaises meant for lounging in style. They're perfect for reading a book, taking a nap, or just relaxing. Just laying on this chaise, windows open, a gentle breeze coming into the room. You don't have to spend a fortune to live a life of luxury.
The Ladybird Corner Sectional
Now, if you are loving the Ladybird Collection so far, but want something with a little more space, then the Ladybird Corner Sectional will suit you just fine. The low profile and retro-chic appearance look more complete in its sectional form. Throw in a sleek coffee table, and you are on your way to having the coolest living room around. There are also variations with a left chaise or right chaise, so check them out depending on the ideal configuration of your space.
The Ladybird U Sectional
Need even more space? The Ladybird U Sectional is our biggest piece of furniture in the Ladybird Collection. If you have big families, or just like the intimate style of a u-shaped sectional, we have provided an option in the dainty form of the Ladybird.
The Ladybird Full Sleeper
If you're expecting guests soon, or want to save money by getting two pieces of furniture for the price of one, the ladybird full sleeper is an amazing choice. Most sleeper sofas are not appealing on the outside, because they are mostly bought for what's on the inside. With the Ladybird full sleeper sofa, you are getting the influential mid-century modern appearance and can choose any of our custom fabrics. So this sleeper sofa (that comes with a full-size memory foam mattress) will be functional and visually stunning.
The Ladybird Ottoman
Last but not least is the Ladybird Ottoman. This piece can be used as a footrest, extra seating, or even a surface to set down any miscellaneous items. The ottoman has a wood frame and legs like the rest of the collection. It will look good in a set, for example, paired up with the Ladybird armchair. If you simply enjoy the tufted appearance of this ottoman and want to buy it as a standalone, by all means, go ahead. It's a sophisticated-looking ottoman, for a sophisticated space.
The Ladybird Finale
There you have it, the Ladybird Collection. This is one of our larger collections at Couch Potatoes because so many people love the Ladybird. It's a frame that stands out: not quite farmhouse, not quite modern, but has that mid-century modern feel reminiscent of days gone past, while still fitting in with the present-day trends.
That's just it, it's trendy. Its appearance is uncomplicated yet interesting to look at, but unlike the trends of today, that ebb and flow with the ever-changing opinions of people, the Ladybird is here to stay as a classic and timeless shape to bring that ladylike charm, and breathe some life into your home.
Couch Potatoes has locations in Central and South Austin. Come see us today and ask about the Ladybird Collection. We would love to help you pick out the perfect piece for your home.